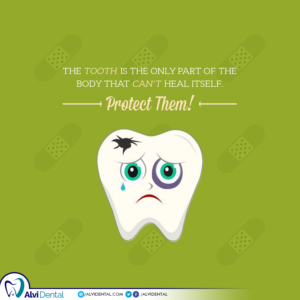 The tooth is the only part of the human body that can't repair itself and tooth enamel is the hardest of all substances manufactured by the human body. Each tooth contains about 55 miles of canals for a total of over 1700 miles.
There are 20 baby teeth and 32 adult teeth. False teeth are often radioactive. Approximately 1 million Americans wear some form of denture; half of these dentures are made of a porcelain compound laced with minute amounts of uranium to stimulate fluorescence.
Without the uranium additive, the dentures would be a dull green color when seen under artificial light. If you are right-handed, you will tend to chew your food on the right side of the mouth. If you are left-handed, you will tend to chew your food on the left.
Can a tooth repair itself?
It depends. It is possible for a tooth to repair itself if the damage is minimal. For example, if a tooth with a crack on the outer level and a small fracture line that does not cause pain may repair itself over time. The healing process is known as remineralization and refers to the minerals in our mouths. Saliva does quite a lot when it comes to keeping our mouths healthy and can help to rebuild up the enamel on the cracked tooth so it is strong and protective once again.
In order to help the remineralization process, it is necessary to make good food choices (reducing one's sugar intake is highly recommended) and use a fluoride toothpaste.