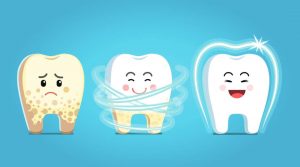 Are you concerned about tips to remove tartar buildup on your teeth but can't make it to the dentist right away? Fret not! We've got you covered with some easy-to-follow tips and tricks to help you manage tartar at home. However, it's crucial to remember that these methods are not a substitute for professional dental care. For a comprehensive assessment and expert guidance, be sure to schedule a visit to Alvi Dental.
Understanding Tartar:
Tartar, or dental calculus, forms when plaque – a sticky film of bacteria – hardens on the teeth. If left untreated, it can lead to gum disease and other oral health issues. Here are some simple steps you can take to manage tartar between dental visits:
1. Brushing Technique Matters:
Use a Soft-Bristled Brush: Opt for a soft-bristled toothbrush to prevent damage to your enamel and gums.
Brush Twice a Day: Make it a habit to brush your teeth at least twice a day, using fluoride toothpaste. Focus on all surfaces of your teeth, including the back molars and tongue.
2. Floss Regularly:
Floss Daily: Regular flossing helps remove plaque and food particles between teeth that your toothbrush may miss.
Correct Flossing Technique: Gently guide the floss between your teeth, forming a 'C' shape around each tooth and moving it up and down.
3. Mouthwash Can Help:
Choose an Antiseptic Mouthwash: Rinse your mouth with an antiseptic mouthwash to kill bacteria and freshen your breath.
Follow the Instructions: Use as directed on the product packaging and avoid swallowing.
4. Natural Remedies:
Baking Soda: Mix a small amount of baking soda with water to create a paste. Brush your teeth with this mixture once a week to help reduce tartar.
Apple Cider Vinegar: Dilute apple cider vinegar with water and swish it around your mouth for a few seconds before spitting it out. Be cautious, as vinegar is acidic and can erode enamel – limit use to once a week.
Remember:
While these tips to remove tartar can contribute to maintaining good oral health, it's crucial to understand that they are not a substitute for professional dental care. Regular check-ups at Alvi Dental are essential to address any issues, ensure thorough cleaning, and receive personalized guidance for your oral hygiene routine.
Taking care of your oral health is a partnership between you and your dentist. By following these home care tips, you can contribute to a healthier smile. However, for a more comprehensive and personalized approach, don't forget to schedule regular check-ups with the experts at Alvi Dental. Your smile deserves the best care possible!
Schedule a Dental Appointment Now

We have two locations of Alvi Dental, one in Sindhi Muslim and the other on Khy-e-Shahbaz DHA, to schedule please select the preferred clinic and tentatively schedule an appointment, which will be confirmed later by our staff shortly