How long does a person spend brushing their teeth?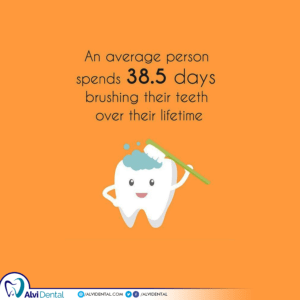 Ever wondered just how much time we spend brushing our teeth over a lifetime? It turns out, the answer is not only surprising but also a testament to the importance of maintaining good oral hygiene.
Let's break down the numbers
On average, a person spends about 2 minutes brushing their teeth during each session. Now, if we consider the recommended twice-daily routine, that's 4 minutes a day. Multiply that by 365 days in a year, and you're looking at 1,460 minutes – or a little over 24 hours – spent brushing annually.
Now, fast forward through the Decades
Over the course of a lifetime, assuming one starts brushing at the tender age of 2 and continues until the age of 70, the total time spent brushing adds up to a whopping 56,160 minutes or around 936 hours. That's almost 39 days dedicated solely to the pursuit of a sparkling smile!
But here's the Fun Twist
Imagine if we could repurpose this time! What else could you achieve in 39 days? Perhaps learn a new skill, binge-watch your favorite TV series, or even embark on a mini-adventure. It's a humorous perspective that highlights the commitment we make to our oral health.
Those minutes invested daily contribute not only to a radiant smile but also to overall health and well-being. So, keep up the good work, and remember that the time spent caring for your pearly whites is an investment that pays off in the long run – not just in minutes but in a lifetime of healthy smiles!

Schedule a Dental Appointment Now
We have two locations of Alvi Dental, one in Sindhi Muslim and the other on Khy-e-Shahbaz DHA, to schedule please select the preferred clinic and tentatively schedule an appointment, which will be confirmed later by our staff shortly