4 Steps to the Correct Order — to Brush, Floss & Mouthwash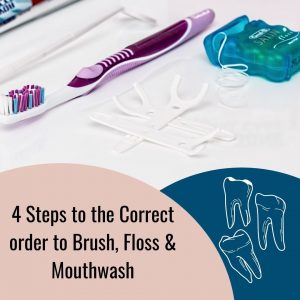 Many people know that it is important to brush your teeth twice a day and floss at least once a day, but they forget that the brushing needs to be done for two minutes. This two minute aspect is a much ignored aspect of peoples daily brushing routine, which is often the main reason for teeth related problems
The twice-daily two-minute tooth brushing routine should actually consist of several steps that go in a very specific order, most people aren't aware of that or just don't care. 
So, what does an ideal dental-care routine look like? In what order should we be brushing, flossing, and using mouthwash every morning and night? Below, learn the correct dental-care routine order, straight from the horse's — er, dentist's — mouth.
1: Start with a Mouthwash, before Brushing
Many people use mouthwash as the last step in their routine, but doctors at Alvi Dental recommend rinsing with a mouthwash first — morning and at night. "When we are sleeping, opportunistic bacteria that cause gum disease and cavities increase their activity," a mouthwash first can rinse our these bad bacteria right away.
Contrary to common belief, be careful not to use mouthwash immediately after brushing your teeth, as It will wash away all the 'good stuff' in the toothpaste
2: Floss between your Teeth
It might sound backward, but yes, you're supposed to floss before you brush your teeth. A toothbrush (even when used effectively) can only reach the outsides and insides surfaces of your teeth, but will not reach areas in between your teeth.
Dr Awab explains the importance of flossing – "Consider when washing your hands, if you don't open your fingers & clean between the fingers, your fingers will remain dirty, hence when we wash our hands, we open our fingers and scrub all around the fingers, Similarly a brush can't reach in between your teeth and the only way to clean this area is floss at least once a day, if not twice."
That said, it's best if the floss comes first "so that when you do brush your teeth, the toothpaste can remove & dislodge all the unnecessary stuff and now the toothbrush can better reach in between the teeth,"
3: Brush Twice a Day for 2 minutes
You already know the rule: You ought to be brushing your teeth twice a day & for at least two minutes every time. You are welcome to use an electric toothbrush, which may be more efficient, but a manual toothbrush will be good too. Keep in mind research has proven that electric toothbrushes have been proven to more efficient at removing plaque because they're designed to gently massage teeth and gums correctly
Brushing is another area where you might need to reconsider your technique. Tilt your toothbrush at a 45-degree angle to the gum and brush in a circular motion into the gum," our doctors at Alvi Dental advise. "To be good brusher, follow a pattern, so you don't accidentally forget an area, you can develop your own rhythm, but maybe start by brushing one quadrant each for 30 seconds, and with the four quadrants completed, you would have dedicated 2 minutes to your optimal brushing routine
As far as toothpaste goes, it's always best to use any toothpaste with fluoride formulas.
4: Scrape your Tongue
When brushing daily we often forget to scrape our tongue so If you're not brushing or scraping your tongue every time you brush , you're increasing your chances of bad breath. The tongue is made up of lots of little crypts, which can harbor bacteria and debris, If these are not regularly removed, a tongue coating forms, and this is one of the biggest causes of bad breath." to manage your bad breath situation remember to scrape your tongue after every brushing
You can use the back side of your brush which often has these rubber surface to use it to scrape your tongue or simple tongue scrapers can be bought from any supermarket
Four steps, that's it. Not so bad once you spell it all out, right?
Don't forget to spend at least a fraction of your time, four minutes in the day that effort on the health of your mouth and teeth.