Brush Twice a day & Floss Once a day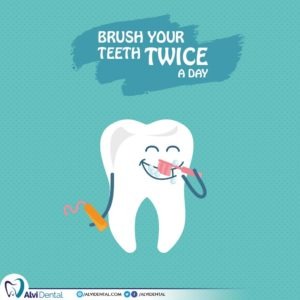 Doctors at Alvi Dental recommend you to brush twice a day and floss at least once a day
Brushing your teeth twice daily for 2 minutes each time can reduce your risk of cavities, gum disease, and other oral health conditions.
This regime can keep your teeth sparkling clean and you shall avoid the need to see a dentist, but even then come to a dentist for a regular annual check up so that we may guide you if you accidentally miss an area
Brushing twice daily helps prevent tartar buildup.
Tartar is actually plaque that has hardened on the teeth. The hardening process that converts plaque into tartar takes about a day to complete. However, the conversion only takes place if plaque remains undisturbed. When you brush twice a day, plaque can be removed before it hardens into position.
Brushing twice a day helps prevent bad breath.
Bad breath that is not associated with the spicy taco or well-seasoned lasagna you had for dinner is often caused by volatile sulfur compounds. Bacteria that reside on your tongue release these compounds regularly, giving morning breath its characteristics stale, sulfur-y smell.
When you brush your teeth, your tongue should also get a thorough cleaning.
As the oral microbes are removed, your breath becomes fresher.
Also the sweet aroma of your toothpaste will further enhance your breath, making embarrassing moments during social encounters a little less likely.
Brushing twice a day can keep your teeth whiter.
If you brush with a whitening toothpaste, you can give your teeth an even greater chance of avoiding discoloration.
Whitening toothpaste often includes ingredients, such as hydrogen peroxide and baking soda, to keep your teeth looking their best.
Peroxide uses oxygenating power to help bleach away stains.
Baking soda is alkaline and mildly abrasive, so it helps polish your teeth for a whitening boost.
A Short Tutorial by Dr Awab Alvi on how to Brush & Floss