That's a Lot of Bacteria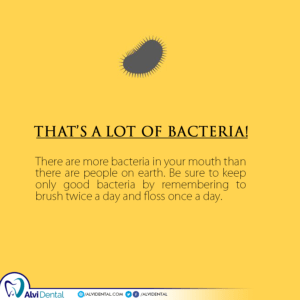 In the hidden realm within your mouth, a bustling community of microorganisms, particularly oral bacteria, plays a crucial role in oral health. While many of these tiny inhabitants are harmless, some can lead to diseases affecting our teeth and overall well-being. Controlling bacteria involves adopting a healthy diet, practicing good oral care, and scheduling regular dentist visits.
Decoding the Diversity of Teeth Bacteria
With over 700 identified strains, the human mouth hosts a diverse range of teeth bacteria. Typically, individuals carry 34 to 72 varieties, most of which pose no threat. Beneficial bacteria, known as probiotics, aid in food digestion, while others protect teeth and gums. However, certain harmful bacteria contribute to tooth decay and gum disease.
Spotlight on Culprits: Streptococcus mutans and Porphyromonas gingivalis
Among the detrimental bacteria, Streptococcus mutans is notorious. Feeding on sugars and starches, it produces acids that erode enamel, making it a primary cause of tooth decay. Porphyromonas gingivalis, usually absent in a healthy mouth, is linked to periodontitis—a severe disease affecting tissues and bone supporting the teeth, leading to potential tooth loss.
Taking Charge of Oral Health
Once teeth bacteria establish residence, complete eradication is unlikely. However, effective management is possible through consistent oral care practices. Brushing after meals and daily flossing remove food sources for harmful bacteria, preventing their reproduction. Incorporating antibacterial mouthwash further assists in maintaining a balanced oral flora.
Dietary Strategies for Teeth Bacteria Control
Your diet significantly influences bacteria growth in your mouth. Avoiding sugary and starchy foods, especially without access to a toothbrush, helps restrain oral bacteria development. Additionally, consuming foods that support healthy teeth contributes to maintaining lifelong oral health.
In conclusion, your mouth harbors a thriving ecosystem, and understanding the dynamics of oral bacteria is essential for a healthy smile. Through simple yet consistent practices, you can control harmful teeth bacteria and promote a lasting, vibrant oral environment.