Microscopic Dentistry in Pakistan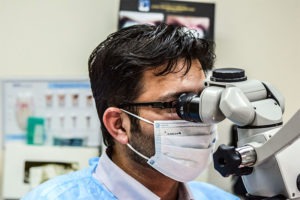 We at Alvi Dental Hospital are proud to have a Dental-Surgical Microscope (Carl-Zeiss) since 2004, a first ever for Pakistan and probably till one of the few rare practices that utilize a dental microscope in Pakistan to perform microscopic dentistry Its also surprising that only 2% of all practicing dentist in the US, use this as a tool to achieve perfection, while the worldwide percentage is barely in the fractions.
The microscope is used to do dentistry at 24x magnification, which is a substantial leap from the 1x by the naked eye (which most dentists use) or 3x with magnification glasses. You can actually do more accurate dentistry overall. We are now the only dentist in Pakistan to perform Microscopic Endondontics now have the ability to do cutting edge dentistry right here in Pakistan.
What Is A Root Canal?
A root canal is a treatment is used to repair and save a tooth that is badly decayed or infected. The tooth's nerve can become irritated, inflamed, and infected due to a deep cavity
During a root canal procedure, the nerve and pulp of the tooth are removed. The narrow channels within the tooth are cleaned by using rotary flexible nickel-titanium files.  The tooth is then sterilized and sealed with a permanent filling material for your comfort – schedule your pain-free appointment today
Microscopic Root Canals At Alvi Dental
The use of microscopes in dentistry is a phenomenal advancement which requires proper training.  Dr Awab Alvi trained from University of Pennsylvania has since then acquired one of the world's best Carl Zeiss microscopic system for us at the Alvi Dental.
This dental microscope allows our doctors to look at teeth at over 24x times magnification, which most most of the dentists can never see . We are the only hospital in Pakistan which has a dental-surgical microscope.
Call our offices to set up an appointment for a pain free, highly accurate root canal treatment with Dr. Awab Alvi