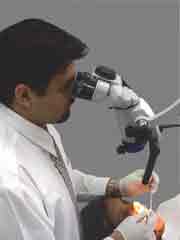 The Alvi Dental Hospital is the only hospital in Pakistan which has a specialist in Root Canal Treatment. Dr Awab specializes in Microscopic Root Canal Treatment which is pain free and ensures success. He has been trained at the University of Pennsylvania which has a two year program including visits to the Alvi Dental Hospital by their Professors to ensure perfect world quality treatment protocols.
What Exactly Is a Root Canal?
A root canal is a dental procedure that is used to remove diseased pulp tissue from the interior of a tooth. The narrow channels beneath the pulp chamber in the inner part of the tooth are hollowed out and cleaned, and the roots are filed with flexible nickel titanium files.
Why Are the Associated Toothaches So Painful?
A tooth can become inflamed or infected for several reasons, including severe tooth decay or a crack or chip in the tooth. Failing restorations such as dental fillings and dental crowns can foster bacterial leakage into the dental pulp. Once infected, the dental pulp begins to die and the body's inflammatory responses set it. The combination of infection and inflammation can cause significant pain. The end result is a toothache.
Microscope in Dentistry
The use of microscopes in dentistry is a phenomenal advance which requires training expertise and major investment. With the world's best Carl Zeiss microscopic system at the Alvi Dental Hospital, we are looking at what most of the dentists cannot even see (at 24 times the magnification). We are the only hospital in Pakistan which has a dental-surgical microscope.