Alvi Dental Opens a new branch on Khy-e-Shahbaz
Alvi Dental Expands!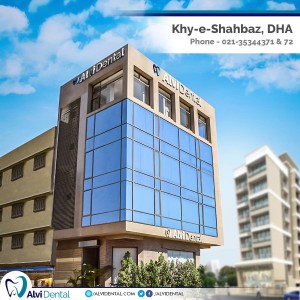 We at Alvi Dental are excited to share the opening of our new location on Khy-e-Shahbaz – this location comes after many requests by our clientele to have our cutting edge dental practice in DHA/Clifton area also.
The new practice location is a three corner, four story structure, with a breathtaking view of the city of Karachi from practically every floor. The building is custom built and has been modified to cater to our dental practice. It is punctuated with a tastefully decorated interior and ensures that our patients feel comfortable and at home
The Ground floor has spacious seating with a reception to greet you upon arrival.  We have ample seating to accommodate accompanying attendants but our goal is to promptly seat our clients in the executive dental clinics for further treatment, valuing their time.
The First Floor is a five chair open orthodontic setup geared to treating our patients undergoing braces & or Aligner treatment. This floor is geared up to providing brilliant smiles for our patients
The Second Floor is reserved for staff & doctors offices – this floor also houses our state of the art sterilization setup – a 23-Ltr (high volume) Class B (best standard) equipment specially imported from Germany which ensures that our patients get only the best in sterilization. It heats all sealed pouches to 134ºC under pressure of 15 to 30 psi – the equipment is geared towards total protection, if there is any lapse in the process, the machine just does not work, and no shortcuts – ensuring our pledge to have the most highly certified internationally accepted sterilization standard.
The Third Floor boasts a breathtaking view of Karachi and is reserved for all our Executive clinics, three spacious operatories. Each operatory has the top of the line A-Dec 500 series dental chair specially imported from the US.  This particular line is renowned for their plush feel and are extremely comfortable.   The third floor also has a Carl Zeiss Root Canal Microscope & a Kodak Carestream 3D/CTBT/OPG/Ceph machine, the only CTBT three dimensional Cat-Scan Dental Xray machine in Pakistan
The Fourth Floor has two additional dental chairs, one reserved for children dentistry with a play area and the other a more spacious dental operatory with the possibility of accommodating clients having more complex dental procedures.
Special care was taken in designing this facility, to optimally deliver the best possible services to all our patients, this office is geared to be fully paperless, with a full gigabit network, connecting all our internal computers and simultaneously connected to a live database sharing between both our locations (Sindhi Muslim & Shahbaz), so we can jointly manage all our patients records as a unified service, all previous history, x-rays & database accessible a mere mouse click away.
Were excited to welcome you to our new location, or swing by the setup in Sindhi Muslim, take a pick which ever suits you best