Dr. Awab Alvi organizes TEDxKarachi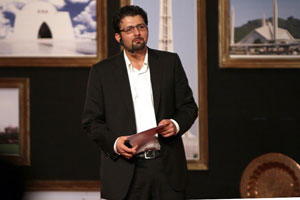 On the 4th of June Karachi witnessed an amazing event in the form of TEDxKarachi organized by a team of volunteers, in which Dr. Awab Alvi as a TEDIndia fellow curated the first session of the meeting. The event was organized under the official license from the TEDx organization and showcased seven speakers who motivated the audience with their own inspirational stories in the trademark 18-minutes TED Talks. The speakers were
Chris Anderson, Curator, TED
Jacqueline Novogratz, Founder/CEO, Acumen Fund
Roshaneh Zafar, Founder/CEO, Kashf Foundation
Asad Umar, CEO, Engro
Monis Rahman, Founder/CEO, Naseeb Networks
Asad Rezzvi, CEO, e-Cube Global
Joshinder Chaggar, Theater Artist
It was followed by an Op-ed by Dr. Awab Alvi published in his weekly column at Express Tribune on 11th of June. Videos and Pictures of the event can be seen at the TEDxKarachi website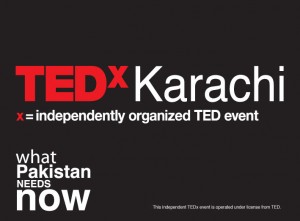 A Global Ideas Bank
With the advent of open-source, the sharing of ideas is giving birth to a wealthy community of ideas and this has the potential to transform society. I share an idea, the world hears of it, we improve the idea and soon this community of ideas helps reshape the world. For one brief moment in a small corner of Karachi a glimmer of hope emerged, it was as if the clouds of doom and gloom, negative politics, rampant corruption and mindless terrorism had yielded. Some 500 people attended a four-hour session called TEDxKarachi with many inspirational speakers. Pakistan witnessed a sea-change of possibilities.
From the drawing room leaders that we generally are, often an idea emerges which quickly degenerates into a political discussion and is soon tarnished with abundantly laced pessimism, of which we are masters too. Some of us have lost hope that Pakistan can be changed for the better. This overwhelming negativity — a mindset which I believe has been drilled in by our leaders — has scared the common man away even from his own dreams, undermining any chance of proactive change.
If a deliberate effort is not made to seek out positive energy we will continue to live a mechanised life at the mercy of our very own 'pied pipers', visibly taking us towards disaster. Why can't we have more positive energy to motivate and inspire our youth, to dream and to achieve? Once they succeed, Pakistan will jump out of the morass into a new world. Motivation is like an addictive drug, the more you have the more people around you are affected with positive energy flowing outwards. For a resurgent Pakistan we need this critical mass of motivation and effort.
TEDxKarachi on June 4 had the audience sitting on the edge of their seats when eight outstanding speakers inspired the audience into dreaming of a new Pakistan.
It showcased success stories from individuals like Asad Umar, who is leading Engro's effort for tapping into the energy resources of Thar coal, Roshaneh Zafar of Kashf Foundation who champions micro-financing for women, Monis Rahman who has created Pakistan's popular online job portal and the motivational speaker Asad Rezzvi. Each in their own way showed how positivity can lead to change, a strong message for all attendees. But some of you would not have been there to see, hear and imbibe this energy. This is where TED comes in. From 500 to 5 million participants is the leverage the TED concept is all about.
Ask any audience member and they will sing accolades about the event, but what about millions who would have benefitted but could not attend? TED – Technology Entertainment and Design – is a non-profit organisation which provides a forum to outstanding doers and speakers and then throws all these wonderful ideas to a bigger audience of millions who access TED websites every day. From Nobel laureates to entrepreneurs to agriculturists and even magicians and dancers have held the stage for a precise 18 minutes, and in the process the best of knowledge and inspiration has been made available. Pakistan through TEDxKarachi has entered into the phenomenon of a global ideas bank.
We have to start believing in our own selves to bring this country on the road to progress. We should no longer tolerate mediocrity; our own ideas must shape our destiny, not the ideas of some corrupt Tom Dick or Harry who has no vision beyond the infinite depth of his own pocket. TEDx which is you and me and an idea, intends to do more of such events across educational institutions and very soon Pakistan will be feted to a new breed of inspiring youngsters who will lead Pakistan to a brighter future. Let there be no doubt that we shall change Pakistan.
Videos and Pictures of the event can be seen at the TEDxKarachi website