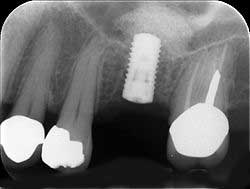 We are the pioneers of Implant placement in Pakistan, Dr. Arif Alvi is one of the first dentists in Pakistan to start placing implants since early 1990, and since then has placed thousands of implants in every possible situation that a patient may require, from complex surgical difficulties to simple one unit implants. With over 20 years of Implant placement you are in very experienced hands.
The best method of restoring lost teeth today is the implanting of teeth in the jaw bone. Success depends on good surgery under experienced hands, sterility, and on the quality of the prosthesis made on top.
What are Implants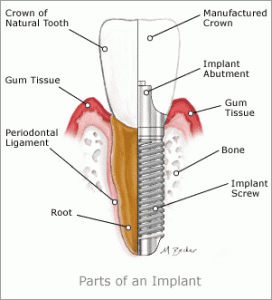 Implants are titanium devices that replace the roots of missing teeth. They are used to support crowns, bridges or dentures. Implants are surgically placed in your jawbone. Most of the time, implants feel more natural and secure than other methods of replacing missing teeth, such as dentures.
How much do implants cost?
The fee for dental implants will depend on several factors, including the number of teeth being replaced and the number of implants required to support your replacement teeth. Some additional procedures may be required prior to the placement of your dental implants to ensure the long-term health of your dental implants. Typically, there is a fee for the surgical procedure and a separate fee for constructing your replacement teeth. To obtain a specific fee estimate, it is necessary to have a doctor at Alvi Dental Hospital physically examine your mouth. After a thorough diagnostic examination, we will recommend the treatment that is best for you.
Will dental implants work for me?
Anyone who is missing one or more teeth due to injury, disease or decay may be a candidate for dental implants. The main limitation is the amount of available bone. Your dentist is the best person to evaluate whether dental implants are a viable solution for you.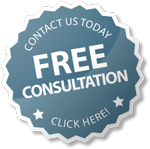 How much time is required for an implant placement?
Traditionally, the procedure has been performed in two steps. [Do watch the video below]
STEP 1 – The surgery it is a quick 30-min procedure where gum is exposed and a small drill helps place the implant into the jaw bone. If sutures are placed then you would need to visit us 5-6 days after the surgery, expect mild to moderate swelling, but with good antibiotics the pain and swelling can be kept to a minimum. The implant is left untouched for about 3-6 months to allow it to take hold within the bone
STEP 2 – Placement of teeth After 3-6 months we recall you back into the office for a set of impressions, these are usually three appointments approximately a week apart to ensure that your prosthetic tooth is fabricated to the best international specifications and hence forth brining you the perfect smile
IMPLANT FAQ's
What are the advantages of dental implants over dentures or a bridge?
Improved appearance:
When you lose entire tooth – crown and root – shrinkage of the jawbone may cause your face to look older. Dental implants can stop this process. A traditional denture or bridge doesn't.
Maintained natural teeth:
With traditional practices, two teeth adjacent to a missing tooth must be ground down to anchor a bridge. Dental implants often eliminate the need to modify healthy teeth.
Permanent solution:
There are no loose parts to worry about. The implant is stable and comfortable. No adjustment is need after installation. Normally, it will serve its owner for life.
How will dental implants affect my life?
Implant-supported replacement teeth look, feel and function like natural teeth. This means that you can eat and drink whatever you are used to. Most importantly, dental implants often improve quality of life in a very concrete way. People who have felt embarrassed and worried because of their tooth problems are often overwhelmed by what new permanent teeth can do for their self-esteem.
Will my new teeth look natural?
When dental implants are used in combination with modern restorative dentistry, their appearance, comfort and function are very likely to exceed your expectations.
Will I be able to chew with the same force and pressure I use with my natural teeth?
Yes. Following a brief adaptation period, chewing capacity is comparable to that of natural teeth.
Are dental implants successful?
With more than two decades of clinical experience and thousands of patients treated, crowns and bridges supported by implants are highly successful. Our statistics confirm a success rate of nearly 95 percent for individual implants. Dental implants placed in our first patient 20 years ago are still functioning today!
Will there be pain after the surgery?
Expect mild to moderate swelling, with a little pain but with good antibiotics the pain and swelling can be kept to a minimum.